Floresville Deck Builders, Garden Arbors & Patio Gazebos
Create A Backyard Getaway
Floresville's small town feeling doesn't mean you have to settle for an ordinary back yard. We'd love to be your Floresville, Texas deck builder!
Are you more interested in enjoying your home inside and outside, or are you more concerned with increasing its resale value?
Either way, turning your outdoor spaces into functional and beautiful recreation areas is one of the most rewarding and cost-effective ways to invest in your home.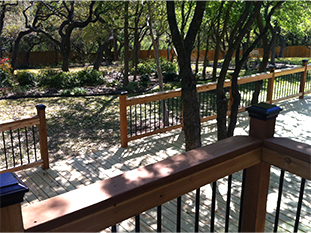 We'll work with you to make sure your custom deck, arbor, gazebo, outdoor kitchen, etc. stays true to the character of your home and your Floresville neighborhood, while making sure your outdoor project is all about you and your family.
What does outdoor living means to you?
Do you want to relax by the pool, entertain guests, cookout with the neighbors, or just have a comfortable place to enjoy your beautiful Wilson County views?
From the ground up, your design and material decisions should reflect what is important to you. Plan to Enjoy by picking materials like composite wood, long-lasting redwood, or cedar.
What should you look for in your Floresville deck builder?
Expect outstanding on-time service from start to finish
Check references. Outstanding service means taking the time to understand your needs, sticking to your quoted price, showing up on time, and finishing your job when promised. Look for a local contractor who specializes in this kind of work, and who enjoys a great reputation in and around the Floresville area.
You'll be living with your new custom patio deck, garden arbor, or patio gazebo for years to come. Now is the time to choose a professional deck builder you can trust to get the job done right and stand behind his work.
Call us today at (210) 566-5677 or on the cell at (210) 789-5677.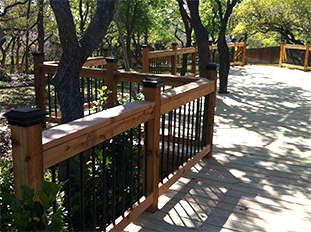 Note: Our Floresville Location is for material storage only and is only accessible to
Floresville Custom Decks crews.
9052 U.S. Hwy. 181 N.
Floresville, TX 78114
*Our bids are firm quotes, NOT estimates. You will never pay more than quoted. – J.R.